Photos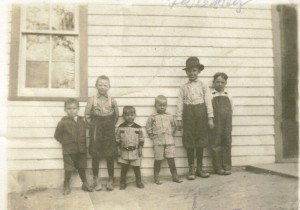 Leo and Kids. "If That Ain't Country I'll Kiss Your Arm" ….Uncle Ted This is an old photo of my Dad (in the hat) with his his sister and five of his brothers. 1916 or 1917
---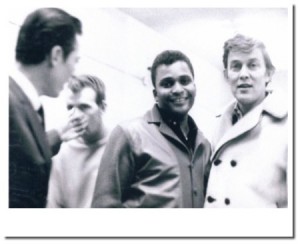 In January of 1969, I had the pleasure of introducing Jimmy Dean to Charley Pride at RCA Studio B in Nashville, Tennessee. Charley Pride and Jimmy Dean are kind wonderful people and fantastic entertainers.
---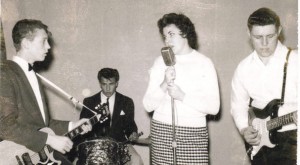 Ted, Vance Wise, Myra Benard, Lyle Brown, practicing in the old Catholic Community Center hall Plainville, Kansas; 1961 or 1962.
---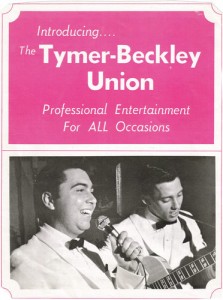 ---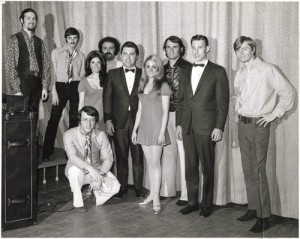 Dennis and Ted,(Tymer Beckley Union) opened a show for Rennie Temple (from Saturday Night Live ) and Bernadette Carroll, Peggy Stantiglia, and other Serendipity Singers in Dodge City, Kansas. I believe it was 1968, maybe early 1969.
---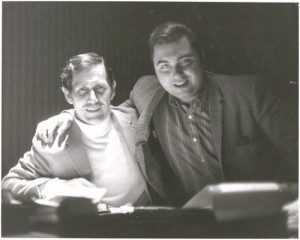 Dennis Tymer and Chet Atkins, in Chet's office; Nashville RCA Studios.
Ted and Magic Mountain 1980
---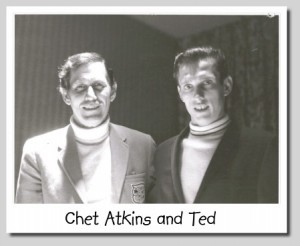 This is one of my greatest memories. Chet Atkins, a real country gentleman and head of RCA Studio's. This photo was taken in January of 1969. Chet helped us get to know people in Nashville and gave me a better understanding of what the music business is really all about. Chet was certainly one of the greatest guitar players in the world. I miss him and still listen to his music. Thank you, Chet, for all the things you helped me understand. Like so many others throughout your life, your music will live on forever because you played it with love from your heart.
---
1958 Terry Wiemer, of the Famous Flippers band from Hays, Kansas; stopped by to jam with the Kings during one of our practice nights.
---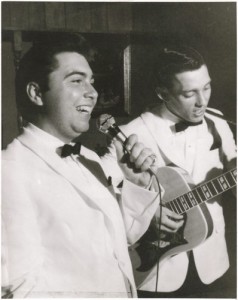 This is one of our promo shots in 1968 when Dennis Tymer and myself were working as a duo, touring the central Midwestern states.
---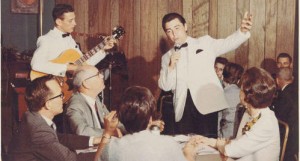 This photo was taken at the Elk.s Lodge Hays Kansas, in 1968 or 1969.
---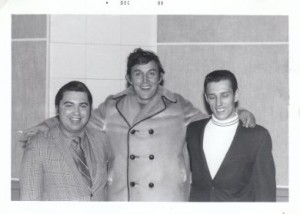 Dennis Tymer, Jimmy Dean, and Uncle Ted 1969 RCA Studio A, Nashville, Tennessee.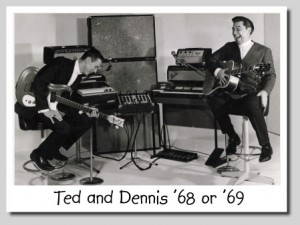 This is one of my favorite memories of my early years playing music. Dennis and I were attempting to have some promo pictures taken for "Tymer Beckley Union" and the photographer could not get us to relax and smile. After four or five attempts, he unexpectedly flipped us the bird. Dennis and I cracked up. I remember that laugh we had, it felt good then and it still feels good today when I look at this picture and recall the moment.
---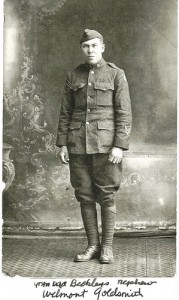 Wilmot Goldsmith born about 1890. He was a WWI Veteran he lived in Rooks County, Stockton Kansas. Billy was instrumental in Uncle Ted loving Country Music. He taught Uncle Ted how to 2nd on the Piano as a child.
---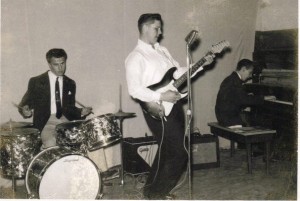 Lyle was singing his favorite song "Walk"; those were the good old days for sure.
---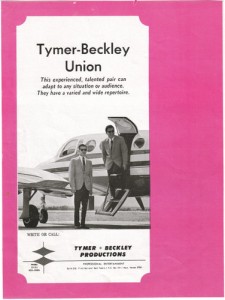 Those were the days my friend…
---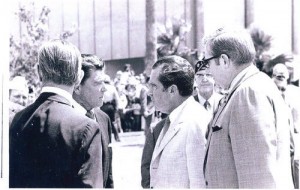 This picture was taken in the summer of 1970. One of the news media photographers gave it to me. Tymer Beckley Union as entertaining at the San Clemente Inn, where all the Nixon security people stayed, because it was close to the Western White House (Nixon's California Residence).
---
Chet Atkins, Ted, Jerry Purcell, Dennis